IELTS Speaking Part 2 – Techniques and Samples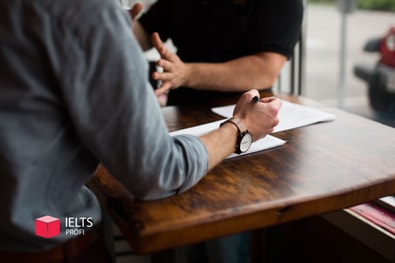 The IELTS Speaking Test Part 2 is a monologue. You have to speak up to two minutes about a given topic. You will have one minute to prepare before you start talking.
In the IELTS Speaking Part 2, The IELTS examiner will give you a topic card and one minute to prepare for the question to answer. He or she will provide you with a piece of paper and a pen so that you can take notes and look at them while speaking.
How the IELTS Speaking Test is Assessed
There are four criteria, so-called band descriptors by which IELTS Speaking Test is assessed.

To learn more about the speaking band descriptors, take a look at the official IELTS band descriptors for speaking.
IELTS Speaking Part 2 – Question Format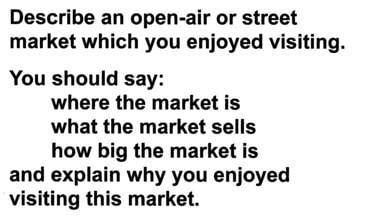 The above topic is taken from the official Cambridge IELTS book edition 9th. You can see the topic question and bullet points.
Now, let's understand the minimum requirements which you should follow for this part of the test.
IELTS Speaking Part 2 – Advice
Your answer should be related to the topic. For example, for the above question, you should not talk about a meal which you enjoyed eating at a restaurant. You should speak about a market which you had pleasure visiting.
It is not necessary to cover all the bullet points. You can still get a band nine if you don't cover all of them. Just make sure to stay on the topic.
It is ok if the examiner stops you. It means you have talked for about two minutes. We recommend that you try to speak until the examiner stops you.
Don't try to correct and repeat yourself while speaking. It will impact fluency. It is ok to make small grammatical mistakes. Even people who make a few mistakes can still get a band 9.
Answering Questions – Technique
We will show you an effective technique to do well in the IELTS Speaking Part 2. Taking some right notes in the given one minute is essential. It could help you to achieve a high score.
Let's take a look at the same sample again, and provide you with a reliable method to answer the question.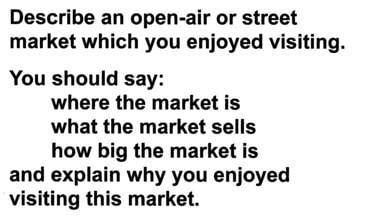 Although it is not necessary to cover all the bullet points, we recommend that you do so. It will help you to talk for two minutes.
When taking notes, add more points about which you can talk. This could help you to have more points to talk so that you can speak for two minutes. For example, in this case, you can add some more points like:

With whom do you go there
How much time do you usually spend there
How much money do you spend there
What do you usually buy from there
When you are planning to visit the market again

These bullet points could help you to keep speaking for two minutes. So, use the given and your noted bullet points.
Start your speech with: "Today, I'm gonna speak about" and tell about which you are going to talk. In this case, it would be: "Today, I'm gonna speak about a market which I love visiting. The market is called Apple Market, and it's located in London." Then continue with the bullet points.
Talk until the examiner stops you so that you can make sure that you have spoken enough.
How to Study?
Don't only practice tests, but also try to improve your vocabulary and grammar. Each of them counts for 25% of the total score for speaking task.
Use the technique and do some practice tests. When doing the practice tests record and transcribe yourself. It is a great way to understand your mistakes and improve them.
After each practice test, read your transcriptions and try to improve what you think you did bad.
You need to get regular feedback to understand if you are improving your score. So, you need to do speaking sessions with someone who has a good understanding of the IELTS exam. He or she should give feedback on what you do correct, and what you do wrong so that you can work in particular areas.
More Links to Study IELTS Speaking
Should you have further questions, please contact us at support@ieltsprofi.com.